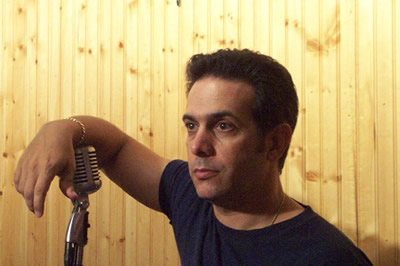 <![if !vml]>

<![endif]>
Hard blowing sax man and vocalist Six Foot Joe brings his own brand of rock and roll/rhythm and blues to the stage. Influenced by the sax hurricanes of the 40s and 50s (along with 1960s sax icons King Curtis and Jr. Walker), as well as contemporary artists like Bruce Springsteen, Joe Ely and Steve Earle; along with the horn bands: Southside Johnny & the Asbury Jukes, Jack Mack & the Heart Attack and Powder Blues Band, Joe's songwriting covers everything from R&B-horn flavored rockers to compelling story songs. Joe is currently working with a new rocking band, the Red Hot Rhinos, and continues to create an eclectic catalog of music. So please read on and check out this exciting performer, musician and songwriter.
SIX FOOT JOE & THE RED HOT RHINOS SCHEDULE:
Monday, August 24, 2009
Jazz@Jacks
Denver Pavilions
500 16th St #320, Denver, CO 80202
Telephone: 303.433.1000
Time: 7:00 pm - 10:00 pm
Admission: Free

Saturday, August 29, 2009
Wings Over the Rockies Air & Space Museum
7711 E Academy Blvd, Denver CO 80230
http://www.wingsmuseum.org/
Time: 7:00 pm - 11:00 pm
Debut of restored F86H – Saber Jet
Admission: $20 in advance/$25 day of the event
Monday, September 21, 2009
Old Chicago Pasta & Pizza
145 Union Blvd Suite 101, Lakewood, CO 80228
Time: 6:00 pm - 9:00 pm
Phone: (303) 988-5990
NOTABLE PAST SHOWS:
The Walnut Room - Denver
Millennium Harvest House - Boulder
Pepsi Center - Denver
Cherry Creek Arts Festival - Denver
Capitol Hill People's Fair - Denver
Jazz@Jack's - Denver
Buffalo Rose - Golden
American Heart & Stroke Walk - Denver
9th Annual Thursday Night Variety Show City of Fruita
Komen Race for the Cure - Denver & Colorado Spring
The Arvada October Harvest Fest at the D-Note - Arvada
Quixote's True Blue - Denver
NEW SOON-TO-BE-RELEASED SONG:
Check out Joe's new song "Radio Nights" before it's officially released on CD: http://www.khow.com/cc-common/artist_submission/player.html?art=180543&gateway=exiting
SIX FOOT JOE ON YOUTUBE: Six Foot Joe and his hard working show band, the Red Hot Rhinos, were captured on film at a recent show case. To view a clip of the show go to youtube.com and do a search for "Six Foot Joe" or just click on this web addresses below:
Song: It Feels like Summer
http://www.youtube.com/watch?v=4ZCA_6PJbnk
Song: Spark in the Night
http://www.youtube.com/watch?v=hLeZtgiyv3E
Song: My '55 Cadillac
http://www.youtube.com/watch?v=9A5ESeS6RtI
SIX FOOT JOE CDs:
After years of being a sideman, Six Foot Joe has taken center stage with some new projects. Joe's catalog of work is constantly expanding, with material ranging from solo acoustic songs to horn soaked rockers. This eclectic collection of music is now available to the public. And it's all right here!

| | |
| --- | --- |
| | On his CD "Big Train" (HURR-0210) Joe showcases his songwriting talents. More of a lyrically driven disc (as compared to the horn driven discs "Feels Like Summer" and "Long Way Home"), "Big Train" has new, previously unreleased material as well as full band versions of a few songs from the acoustic "Uncut: the Demo Tapes" CD. Joe may not have taken his horn out of the case that much on this disc but still he crafted some pretty cool story songs; songs filled with heart felt lyrics that look at the way we live life and the choices we make. A nice enjoyable disc for sure! |
| | The phrase "horn driven rock and roll" best describes Joe's biggest selling release "Feels Like Summer" (HURR-0208). The CD rocks, swings and jumps from the honking baritone sax line on the opening track to the disc closer, "Bar Walkin'"---a raunchy sax instrumental. Joe's voice sounds better then ever and the band rises to the occasion with some blazing grooves and hot solos. This is classic Six Foot Joe at his best!! |
| | On his "Long Way Home" (HURR-0207) CD, Joe includes twelve horn filled originals that swing, groove and rock. There are songs about cars, unattainable women, women with bad intent and there's even a song about women owning liquor stores. Some of the material on "Long Way Home" goes back to when Joe started his songwriting career. Musically the disc covers the spectrum of straight-ahead rock 'n' roll, with plenty of horns of course, to finger-snapping up-tempo blues flavored numbers. |
| | Also available, is the ten song, acoustic guitar/vocals disc "Uncut: the Demo Tapes" (HURR-0206). Joe exposes the essence of his songwriting by stepping behind the microphone with his acoustic guitar instead of his sax on "Uncut: the Demo Tapes". The disc consists of song demos Joe made when he composed and created this material---so if you want to hear some raw, unplug music this disc is for you. "Uncut" consists of songs that Joe wrote early in his career along with some previously unreleased material. |
| | Joe's holiday disc, "One Cool Rockin' Sleigh" (HURR-0209), is a special three-song release for that festive time of year. Joe makes the holidays jump, swing and rock on the opening track of this special 3 track disc---'mistletoe' taper you might say. And, with his story telling at its best, Joe brings out the true meaning of the holidays on the track "Santa Was Here". Joe shows his lighter side on the disc closer "Joe's Holiday Wish". |

SIX FOOT JOE REVIEWS:
---Andrew Clark, Saxophone Journal (November 2004)
"Six Foot Joe and his band capture the roots of American blues and rock and roll with their CD 'Feels Like Summer'. Six Foot Joe has a great wit in his writing and visits many of the touchstones of rock and blues without sounding maudlin or clichéd. His saxophone playing is grounded in the tradition of great rock saxophonists like Junior Walker and King Curtis and his arranging skills are evident on every song. His sax lines are very catchy and his solos fit perfectly into the mix of his material. This is a great effort from a guy who really shows his love for his music on every track of this CD."

---Recording Magazine (Readers Tapes)
March 2000, Volume 13, Number Six
Song critique 'Hoochie Woman' from Long Way Home release:
"Now we get this fresh sounding tune from Joe…the tune opens with a drum solo that sounds organic and natural. The saxes come in next, sounding good, before the band and vocals kick in…The well rehearsed band must have made it easier for Joe to do a good recording job---the playing sounds as natural as the mix."
"Joe has made some nice progress and we congratulate him and his cohorts on a fun recording."

SIX FOOT JOE MUSIC RECORDED BY OTHERS:
The Shields of Faith, a gospel jazz group based in Colorado, has recorded a Six Foot Joe composition. The song, titled A Light Shining Down On Me, will be on the bands debut CD due out soon. The song shows Joe's eclectic taste in music and his ability to stretch his musical boundaries.

SIX FOOT JOE'S BAND: THE RED HOT RHINOS
Joe has known the guys in his back up band, the Red Hot Rhinos, for a long time and has worked with them off and on throughout the years. Joe's running with a three piece rhythm section these days and has Reno Smith on guitar, the Plumber on drums and Dan the Man on bass. The horn section has Screamin' Scott on trumpet, the Mighty Jay on trumpet and Long Tall Pete on trumpet---that's right, Joe has a three piece trumpet section with him honkin' on stage! With diverse backgrounds and musical tastes all six of these talented musicians brings their unique style and sound to make up the Red Hot Rhinos.

LOOKING AHEAD:
Joe and the band are constantly on the move looking for new places to perform. Look for them to pop up all over town, making impromptu appearances and putting their music out on the street. Similarly, Joe is also constantly writing new material, both acoustically and for a full band ensemble, so future releases are expected. We will post any news on any upcoming events as details develop.

RHINO FACTS:
-There are 5 types (or species) of rhinos: White, Black, Indian, Javan and Sumatran. Six types if you count the Red Hot Rhinos!

-All rhinos are vegetarians. In fact, white rhinos eat plants that are toxic to other animals. If it weren't for the rhino, the African plains would be overtaken with these pesky weeds. Red Hot Rhinos, on the other hand, enjoy a good steak once in a while!

-The largest rhino (the white rhino) can grow larger than any other land mammal with the exception of elephants. The Red Hot Rhinos can be really big if they sell enough CDs!

-A white rhino can stand 6 feet tall at the shoulders and weigh almost 8 thousand pounds or the same as 50 average size men. The Red Hot Rhinos weigh and stand about the same size as 6 average men.

-Black and white rhinos live in Africa. The Indian rhino lives in India. The Javan and Sumatran rhinos live in Indonesia on the island of Java and Sumatra. The Red Hot Rhinos live in the foothills of Colorado in North America.

-Rhinos are more closely related to horses than hippos. Rhinos are "Odd-toed Ungulates" along with horses, zebras and tapirs. The Red Hot Rhinos, on the other hand, are closely related to the horn bands of yesteryear, playing a variety of blues flavored rock music; we won't even talk about their feet!

-Rhinos have extremely poor eyesight but a keen sense of smell and hearing; the Red Rhinos have good hearing and we won't even comment on their smell.

-Rhinos got a bad rap due to their poor eyesight because they would charge easily; the Red Hot Rhinos, on the other hand, would charge things to their credit card limits.

-Rhinos can run up to 40 mph; Red Hot Rhinos can't!
Copyright © 2008 Hurricane Records Ltd. All rights reserved

---
(Top)